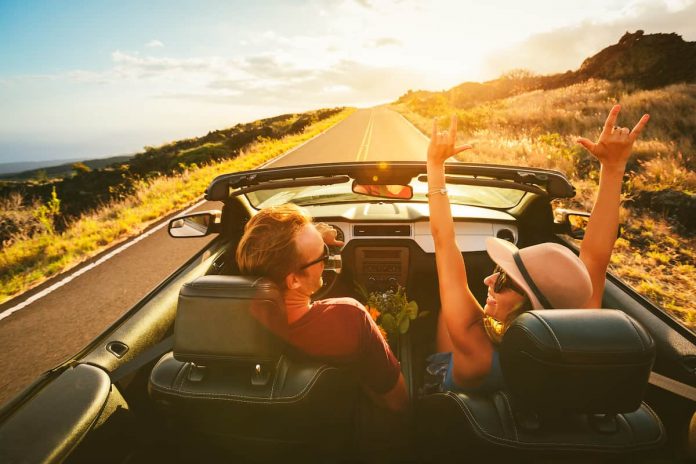 Flying is very expensive. You have to pay for airfare and lots of times your luggage is not included in your airfare. Then you have to pay to check in luggage. If you get hungry on the airplane, you have to pay their overpriced costs for a meal.  Costs add up when flying!
Road trips are not inexpensive when compared to flying. Costs can also add up when you are on a road trip. However, you can save money by planning your trip well in advance. Follow these 10 money saving tips before you set out on your next road trip.
1. Plan Ahead

Before put the pedal to the metal and hit the road, you need to plan your trip! You should layout your destinations and the routes you need to take to get there. Consider utilizing TripIt to maintain all the details in one spot.  
2. Save Gas

Download the Cheap Gas App to save money on gas. This app will help you save time and frustration by easily finding the cheapest gas station closest to you. 
3. Get Tuned

Get your tires a tune up before you head out on the open road. This will hopefully allow you to avoid breakdowns that could cause expensive repairs with unknown mechanics.
4. Dining Out

There are a lot of chain restaurants on the sides of roads during long road trips. This makes meals fast and inexpensive.
5. Pack Wisely

Avoid paying top prices for trip essentials by packing what you will need. Beach staples like sunscreen and towels cost considerably more when purchased at the beach, as do travel-related gadgets such as mobile speakers and camera batteries. Make a list of everything you need for your road trip. This will help you pack wisely. You should not have to pay extra money for items that you have at home or that you can pay less for. 
6. Take Snacks

Buying snacks on the road can get expensive. You may not find a store with the types of snack you want or the store might be more expensive. It is best to pack your own snacks, soda and bottled water. You can put the drinks in a cooler and refill using cheap ice in the gas station if necessary..
7. Refreshments
If you finish all of the refreshments you packed then purchase a fountain beverage over bottled soda. You will pay a few bucks more for your bottle and get less soda than the fountain soda.  
8. Inform Your Bank

Alert your credit card company of your upcoming road trip. Lots of times banks put holds on credit cards if they see unusual activity. Credit card charges from a location that is not normal on your credit card may put a temporary hold on your card. This will put a hold on all of your funds. 
9. Drive Within The Speed Limit

Studies reveal that fuel efficiency declines as the speed increases, making trips more costly for speed demons on the road. Since speeding also raises the prospect of expensive tickets, it is worth it to slow down and enjoy the scenery.
10. Daily Bargains

As soon as you decide on your destinations, start looking for daily bargains in the cities you want to see to save on dining, attractions and activities. You might discover specific ways to explore new cities with bargains on everything from picture safaris to winery tours. Some great daily bargain/deal sites are Groupon and Living Social. 
Road trips can be a lot of fun, but they can get very pricey. With planning your itinerary and all the details ahead of time you can save money. These simple ten tips can help you plan your upcoming trip and help you save money in the process. .