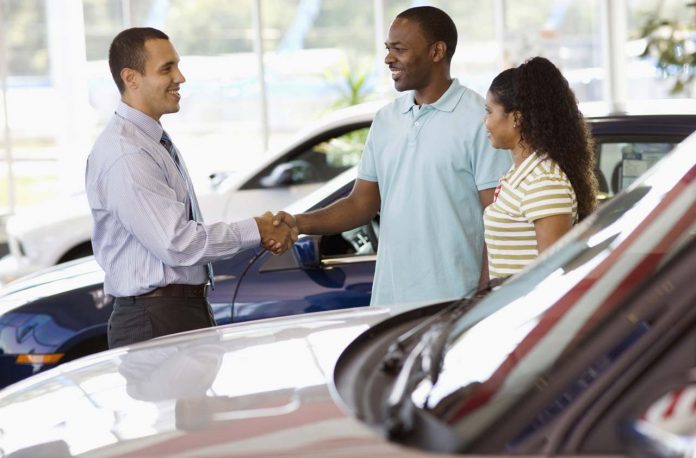 The process of buying a new car is exciting, but it can also be frustrating. You have to figure out your budget, figure out what car fits in your budget, then deal with overly pushy car salesman. Below are some important tips that will hopefully help you from getting a headache during the car buying process. 
1- Research
Before you go to the car dealership, do your research! You can do a thorough job researching the cars you are considering online. Some great resources are consumer reports, Kelly blue book and Edmunds.com. 
Some things you need to research is the "invoice" of the car not the MSRP. The invoice is the price that the dealer paid the manufacturer for the vehicle. This piece of information is useful for price negotiations. If you are looking into a used car, then research the resale value of the car. This information will help you bargain.
2- Shop Around
Make sure you shop around when purchasing a car. Even if you like a certain make and model of a car at a dealership, make sure you visit other dealerships that sell the car. This way you can price compare and possibly pit the dealerships against each other when negotiating. 
3- Make a budget
Before you even start researching cars or visiting a dealership, check your savings account. Do some accounting to figure out what is within your budget before you start looking. No point in looking and then figuring out that you can't afford any of the cars on your list. 
4- Bargain
Bring your best game face to the table because car buying is a haggling match. Make sure that the salespeople know that you mean business and that they can't pull a fast one on you. You need to do everything in your power to negotiate the car loan and knock the purchase price down. Sometimes it helps to start with an extremely low number and then work up until a price is agreed upon. 
5- Consider New And Used Cars
There is nothing wrong with a good used car. You can definitely save money buying a used car. A car is not like a house, it depreciates as it ages. A used car that has been taken care of well by previous owners can be just as good as a new car. Make sure to read through the car report thoroughly for any accidents the car may have been in. 
6- Use The Internet
You can do a lot on the internet these days. You can even buy a car! This is great because you can save time by not having to go into a dealership. You can also save some frustration by not having to deal with a car salesman. Make sure to test drive the car and have a mechanic check it out before purchasing it. 
7- Buy Your Car Based On The Purchase Price
You will see advertisements for great monthly payments, but this isn't what you should be looking at. You need to look at the overall purchase price. The purchase price is what you need to negotiate. Also make sure that you get the full picture of the purchase price with all of the hidden costs. 
8- Trade-Ins
If you are planning on trading in your car, don't mention this to the dealership. This is something you should mention at the end of your negotiation process. This is because a salesman might work a trade-in to your disadvantage. You should negotiate the best possible price for your new car and then mention your trade-in. .
9- Don't Forget About Insurance
The cost of your car is not the only expense you have when purchasing your car. You have to think about insuring your car. You can hop online and get an idea of how much insurance will cost for cars that you are considering. All you have to do is input the cars make, model and your driving record. 
10- Test Drive 
Always make sure to test drive the car you are considering buying. You need to make sure that the car doesn't have any issues. You should make sure that the car runs smoothly, you have good views from the mirrors, the brakes work well and the car controls are in working order. Don't be the 10% of people who forgo test driving and jump to buying.
Buying a car is very frustrating and exciting. There are many things you have to consider. These ten tips can help you understand how to get the best deal when purchasing a new car.